Tuesday, February 19, 2013 at 11:15AM
by Omar Freilla
Ella Baker is the most well-known unknown leader of the Civil Rights movement. Recognized as the backbone of the Civil Rights movement, she was often behind the scenes having played critical roles in the growth and development of each of the major civil rights organization's (NAACP, SCLC, and SNCC). Less known is that Ella Baker was a staunch of advocate of building a cooperative economy and promoted their development in New York City and throughout the country. She served as national director of the Young Negroes Cooperative League in the early 1930s, a federation of local groups founded by black journalist and anarchist George Schuyler, that sponsored the growth and development of local consumer cooperatives and buying clubs in major cities throughout the country. And in her own New York City, she served as board member and publicity director for the Harlem's Own Cooperative, a consumer cooperative specializing in milk and a few other groceries.

She saw cooperatives as a training ground where people get to experience democracy and grow into their own power. She was an early embracer of participatory democracy, and an advocate for decentralized organizations, having leadership come from those most affected by the issues at hand. She was known to say "Strong people don't need strong leaders". Through the Student Nonviolent Coordinating Committee, her ideas of group-centered leadership and radical social change influenced the entire student movement of the 1960's, Students for a Democratic Society, and other radical and progressive groups during the 60's and 70's.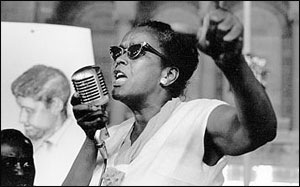 For anyone who wants to dig deeper into Ella Baker's cooperative history, The NY Public Library's Schomburg Center for Research in Black Culture maintains the Ella Baker Papers collection, which includes the Cooperatives and Consumer Education papers from 1930-1975. The cooperative series contains correspondence, writings, flyers, memos, announcements for a variety of programs, forums and fund-raising events promoting co-operatives and consumer education, and printed material of the Cooperative League of the U.S.A, (1931-1940), the Young Negroes' Co-operative League, Harlem's Own Cooperative, the National Association of Consumers, and the Works Progress Administration.